Board of Directors Nominations
The business and affairs of Midwest Energy are managed by a nine-member Board of Directors. This board exercises all of the powers of the Corporation, except such as are by law or by the articles of incorporation of the Corporation or by the bylaws conferred upon or reserved to the members.
All directors shall be elected by secret ballot mailed to each member prior to each annual meeting of the members by and from the members and the term of their office shall be three years. As the terms of such directors expire, their respective successors shall be elected for three year terms subject to the provisions of the bylaws with respect to the removal of directors.
Director Positions in the following Districts will be voted upon during the following years:
| 2018 | 2019 |
| --- | --- |
| District 3 | District 1 |
| District 4 | District 3 |
| District 5 | District 5 |
District Map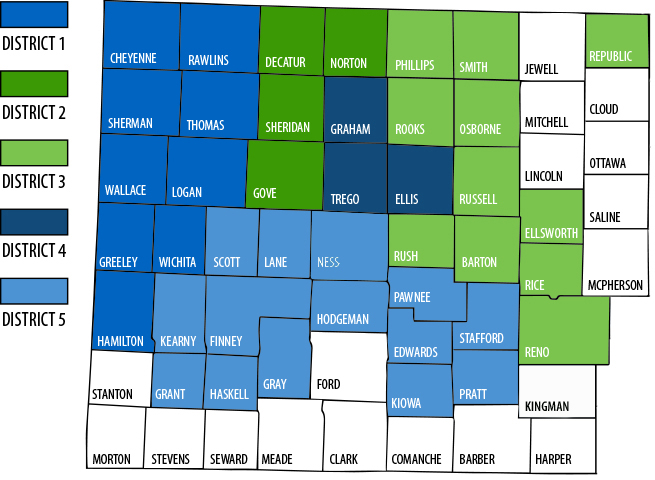 Submitting a Nomination
If you or someone you know is interested in serving as a member of the Midwest Energy Board of Directors, and you would like that name placed in nomination, please review the following list of qualifications, then, if qualified, fill out the nomination form below.
Qualifications
No person shall be eligible to be elected or remain a director of the Corporation who:
Is not a member of the Corporation receiving retail electric and/or natural gas service in the district for which he/she is nominated, or an employee or director of a member receiving retail electric and/or natural gas service in such district, and a bonafide resident of the district for which he is nominated.
Is in any way employed by, or financially interested in, a competing enterprise or a business selling natural gas or electricity.
Upon establishment of the fact that a director is holding office in violation of the foregoing provisions, the Board of Directors shall remove such director from office. Nothing contained in this section shall affect in any manner whatsoever the validity of any action taken at any meeting of the Board of Directors. Nothing contained in this section shall prohibit the Board of Directors from establishing additional qualifications for directors by Corporate Policy. Nominations for the 2018 elections are due no later than July 6, 2018.
Nomination Form