On Nov. 17, 2022, Midwest Energy's Board of Directors adopted a three-part rate structure for residential and small business (General Service Small) electric rate classes, featuring a customer charge, energy charge and a demand charge, beginning Jan. 1, 2023. The rate changes will be revenue-neutral for the cooperative, and will be phased in over a period of four years. As demand charges are introduced, energy charges will decline each year, offsetting much (in some cases, all) of the demand charge, resulting in a no overall increase for an average residential customer.
To help customer understand demand rates, we will be hosting several public meetings throughout our service area. Here is our schedule:

May 23 - Quinter 10:30 a.m. at Jay Johnson Library
May 23 - Colby 12:30 p.m. at Colby CC Union
May 25 - Hill City 10 a.m. at First State Bank
May 25 - Hays 12:30 p.m. at Hays Senior Center
May 30- Goodland 10 a.m. (MST) at Goodland Senior Center
June 1 - Victoria 10 a.m. at Victoria High School Cafeteria
June 6 - St. John 10 a.m. at Goodman Library
June 6 - Great Bend 11:30 a.m. at Great Bend Senior Center
June 22- Atwood Noon at Atwood Rotary Club Meeting (at Masonic Lodge)
July 11- Colby Noon at Rotary Club Meeting (at City Limits Convention Center)
July 11- Great Bend Noon at Lions Club Meeting (at Perkins)
July 19- Bird City Noon at American Legion
August 11 - Stafford Noon at Stafford Senior Center
Currently, most Midwest Energy residential and small business customers have a two-part rate structure; a customer charge, which is a fixed $28 per month charge for all residential customers, and an energy charge, which is based on the volume of kilowatt hours of electricity used during the month.
The proposed rate change will introduce a third component, a demand charge. Demand refers to the amount of electrical power being used at a given time. While the energy charge is based on the volume of electricity used in kilowatt hours (kWh), demand is based on the intensity at which energy is used (or the "demand" one puts on the grid) in kilowatts (kW).
Demand charges will be a monthly charge based on "peak demand," or the maximum number of kilowatts a customer used in an hour, measured in 15-minute increments. In the summer months of June 1 through September 30, demand will be billed based on peak demand between 3 p.m. to 7 p.m. The rest of the year, the billed demand would be based on whenever peak demand was reached during the month. Non-summer demand charges will be lower than during the four summer months.
Under the plan, residential customers will begin seeing demand measurements on bills beginning Jan. 1, 2023, but there will be a $0 charge for each kW of demand. Small businesses (General Service Small) will begin seeing demand charges on bills, and will be billed at the rates in the chart below beginning Jan. 1, 2023. For residential and small business customers, as demand charges increase during the multi-year phase-in, energy charges will decrease. The $28 per month customer charge for residential, and the $35 monthly customer charge for small businesses, will not change.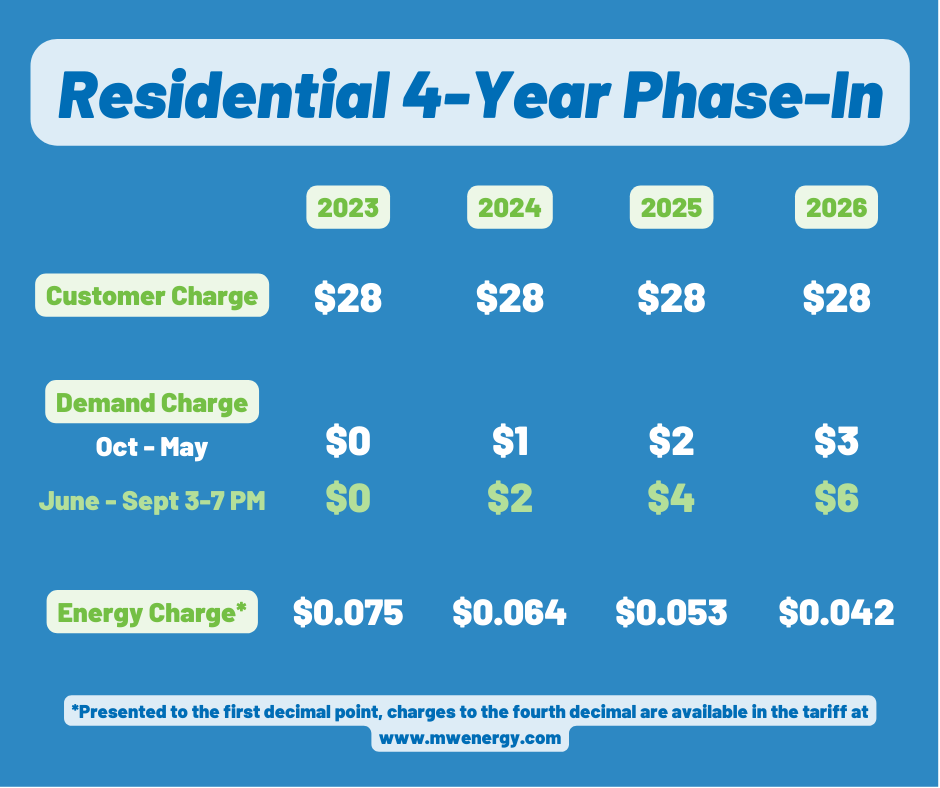 Currently, roughly 80 percent of Midwest Energy's costs are fixed, mostly related to system capacity, but only 20% of revenue is recovered through fixed charges. Three-part rates will help bring those two numbers closer to alignment. Customers will have two ways to manage bills: Limit total kilowatt hours used in the month or limit maximum electric use at any one time.
Midwest Energy has historically divided electric customers between "M" and "W" systems for many years. The M system is the legacy Midwest Energy system, while the W system was purchased from Westar Energy in 2003. As a condition of that sale, rates for W system customers were to be gradually combined with Midwest Energy's M system rate schedules. Many differences were eliminated in a 2018 rate case. This rate case continues that consolidation, with company-wide residential, small business, and oil service classes after three years. Irrigation rates will remain different for M and W system customers in this rate change proposal, though differences between the two will be greatly reduced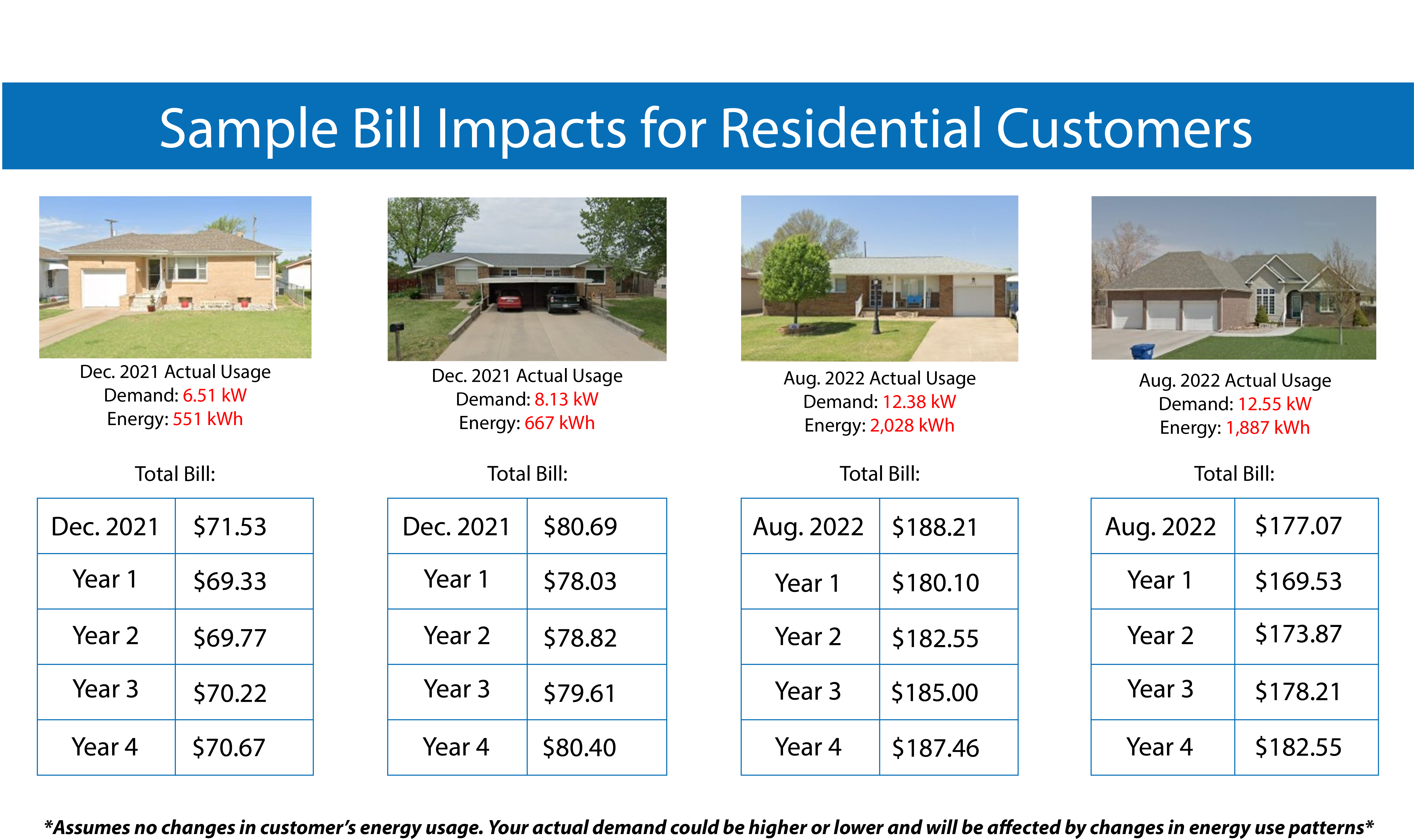 Questions and Answers:
Q: Why is this rate change necessary?
A: The primary objective of this rate action is to modify rate designs for residential and small business customers. A secondary objective is to continue consolidation of rate schedules begun in previous rate changes. No company-wide change in revenue collection will be made. Midwest Energy customarily reviews its rates every three years, with some combination of rate case goals.
Q: Why introduce demand charges for residential and small commercial customers?
A: Demand charges are a more accurate and transparent way to bill customers according to the impact each customer places on the grid and generating resources. By sending a price signal to reflect actual costs, customers can influence individual bills immediately and overall capacity costs in the long run.
Q: What's the purpose of the demand charge?
A: The demand charge recovers fixed costs (transformers, power lines, generating resources, etc.) based on the intensity at which energy is used. A demand charge line item will appear on residential customer bills starting with a $0 charge in Jan. 2023, and the charge will gradually increase over four years while the energy charge decreases.
Q: How does Midwest Energy determine charges?
A: An independent cost-of-service study was performed this year to allocate costs across all rate classes. A cost-of-service study identifies the cost of providing service to each rate class as a function of load and service characteristics. These studies provide a useful guideline for assigning cost responsibility in a way that is fair and equitable.

Q: How can I see what my demand is before my bill arrives?
A: Midwest Energy customers can access Customer Connect, an online portal that provides secure access to detailed electric usage viewable in monthly, weekly, daily or even 15-minute increments. To access Customer Connect, visit www.mwenergy.com and click the "login" button to access your Midwest Energy account. Once logged in, click the Customer Connect logo, which takes you to your usage dashboard. This video offers a short explanation of how to view your demand in Customer Connect.
Q: How much will my bill change?
A: Bill impact examples for Residential, Small Business (General Service Small) and Irrigation customers are above. For more information, including bill impacts to other rate classes, please call Ryan Hammerschmidt at 1-800-222-3121.

Q: How do I know if my account is in the "M" or "W" system?
A: The map below shows the boundaries of the M and W system. If you still have questions, please call Ryan Hammerschmidt at 1-800-222-3121.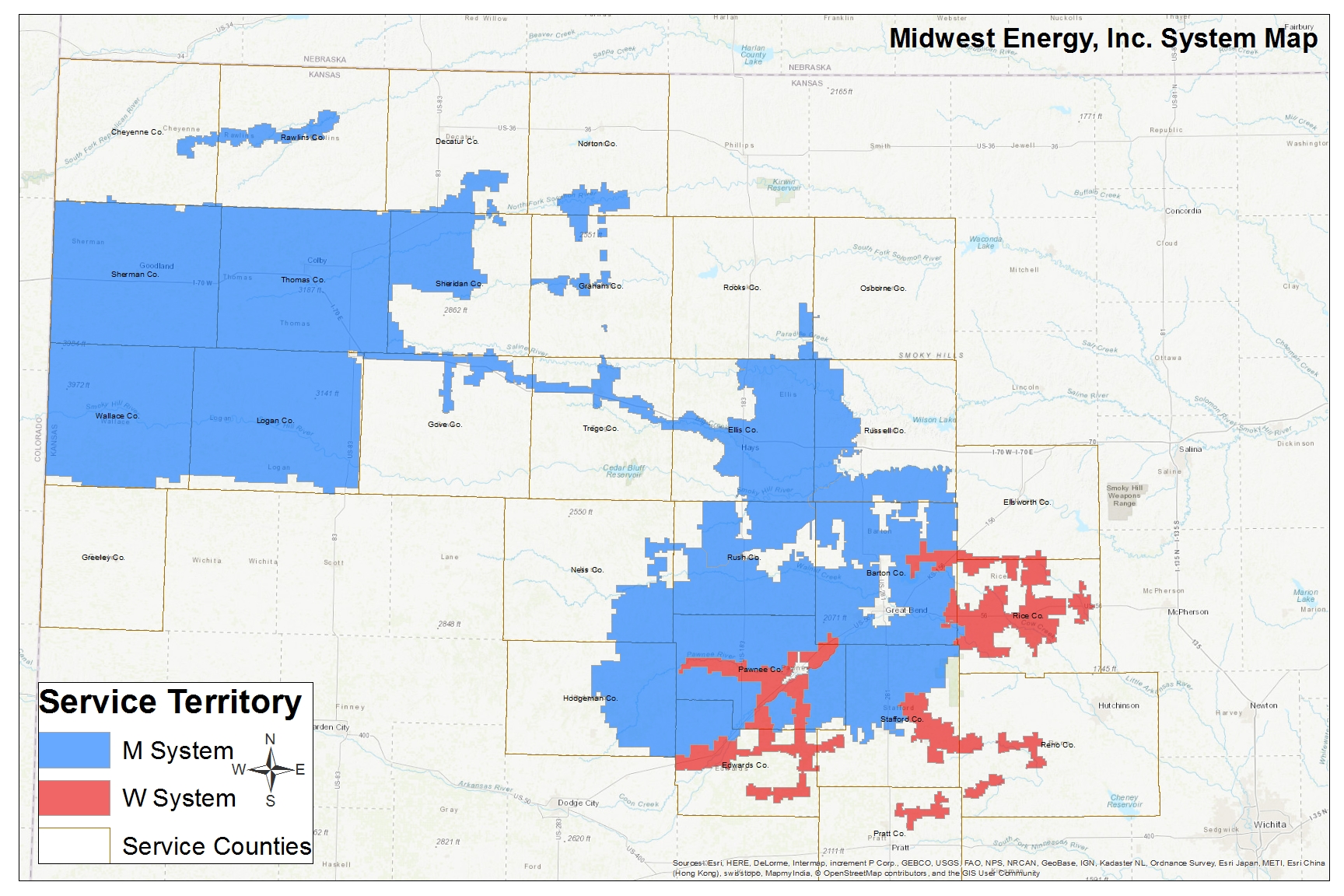 Q: Who determines when a rate changes?
A: Midwest Energy's Board of Directors and executive staff continuously monitor the financial position of the cooperative and industry trends across the country to determine if or when a rate increase or rate design change is necessary. An independent, experienced firm was hired to conduct a cost-of-service study, and recommend changes to rate designs.
Q: What is the effective date of the new rates, and when would I see them on my bill?
A: The revised rates will take effect January 1, 2023. However, residential customers will not be billed for a demand line item until January 1, 2024. This allows time for Midwest Energy to conduct a customer education campaign on demand rates, and to help customers better understand how they can lower their demand to control costs.
Q: How can I find out how the proposed rate changes will affect my bill?
A: If you'd like details on how this rate change will impact your bill, please call us at 1-800-222-3121 and speak with Ryan Hammerschmidt. He will walk you through the changes as they relate to your account.
Q: How can I manage demand?
A: Spreading out the use of major appliances is the easiest way to manage your demand and control your electric bill. The chart below shows two customers. The customer on the left spread out their appliance usage and minimized demand. The customer on the right consolidated their appliance usage in a short period of time, significantly increasing their demand.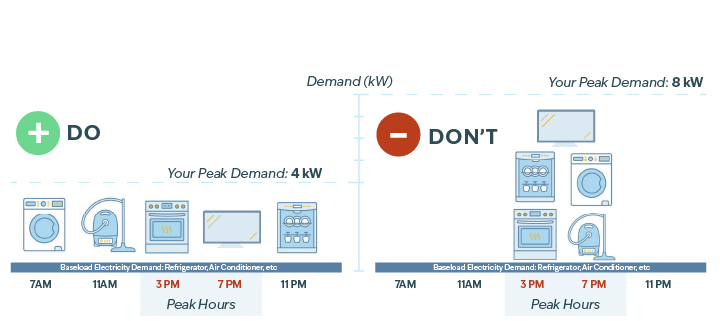 Q: What changes happened with the tariffs in this rate case?
A: The master tariff will see many changes, as will many of the existing tariffs. You can see all of the tariff changes here.
Q: What other changes are being proposed in this rate case?
A: As part of this rate case, several tariffs were canceled.
Q: How can I learn more, or make my concerns known to the Board of Directors?
A: First, you can send e-mail comments to Justin MacDonald, Vice President of Customer Service. Alternately, you may call Mr. MacDonald at 1-800-222-3121 with any comments.
* This page last updated 4/18/23 to add public presentation dates