Gas Rate Change Summary
Midwest Energy's Board of Directors will consider gas rate changes that would raise an additional $1.7 million per year compared to 2018 revenue for system improvements and upkeep.
The new rates would result in an average residential increase of less than $2 per month. An average residential customer would have an increase of $1.87 per month based on actual 2018 gas use. Rate design changes include increasing the residential fixed customer charge by $1 to $19, and "zeroing out" the current Gas Infrastructure Rider and Ad Valorem (property tax) Rider. The new rates would include an increase in volumetric charges, of 2.5¢ per therm.
The new rates, the first general rate increase since 2016, will provide capital for safety and reliability improvements, cover increases in operating and administrative expenses, and more accurately capture the cost of providing natural gas service.
Members are welcome to submit comments on the proposed rate changes and are welcome to attend a series of public meetings to learn more about the changes. All Midwest Energy members are invited to attend as the open public meeting when the Board of Directors will consider and vote on the proposal (see Q&A below for meeting locations and times).

Questions and Answers:

Q: Why is this rate increase necessary?
A: The costs of capital improvements plus operating and administrative expenses have increased since the last general rate case in 2016. Annual adjustments such as the Gas Infrastructure Rider and Ad Valorem (property tax) Rider automatically cover specific items. However, other expenses such as wages, vehicles, tools, and insurance are not covered by automatic riders. Every few years Midwest Energy changes its base rates to match those expenses.
Q: What's the purpose of the customer charge, and why is it increasing?
A: The customer charge is intended to cover costs that vary more closely with the number of customers served rather than the capacity of the delivery system or cost of gas. Examples include meters, regulators, yard lines, metering costs, billing and customer service functions. Under the rate change, the residential customer charge increases $1 per month, to $19, but the Gas Infrastructure Rider and Ad Valorem Tax Rider would "zero out" and be eliminated. In their place, a formula-based rate plan would be adopted, where charges formally covered by those riders would adjust automatically every year.
Q: What is the change to the customer charge for other rate classes?
A: The change in the customer charge varies according to rate schedule. The existing customer charge plus Gas Infrastructure Rider and the new customer charge with the Gas Infrastructure Rider reset to $0 are shown below.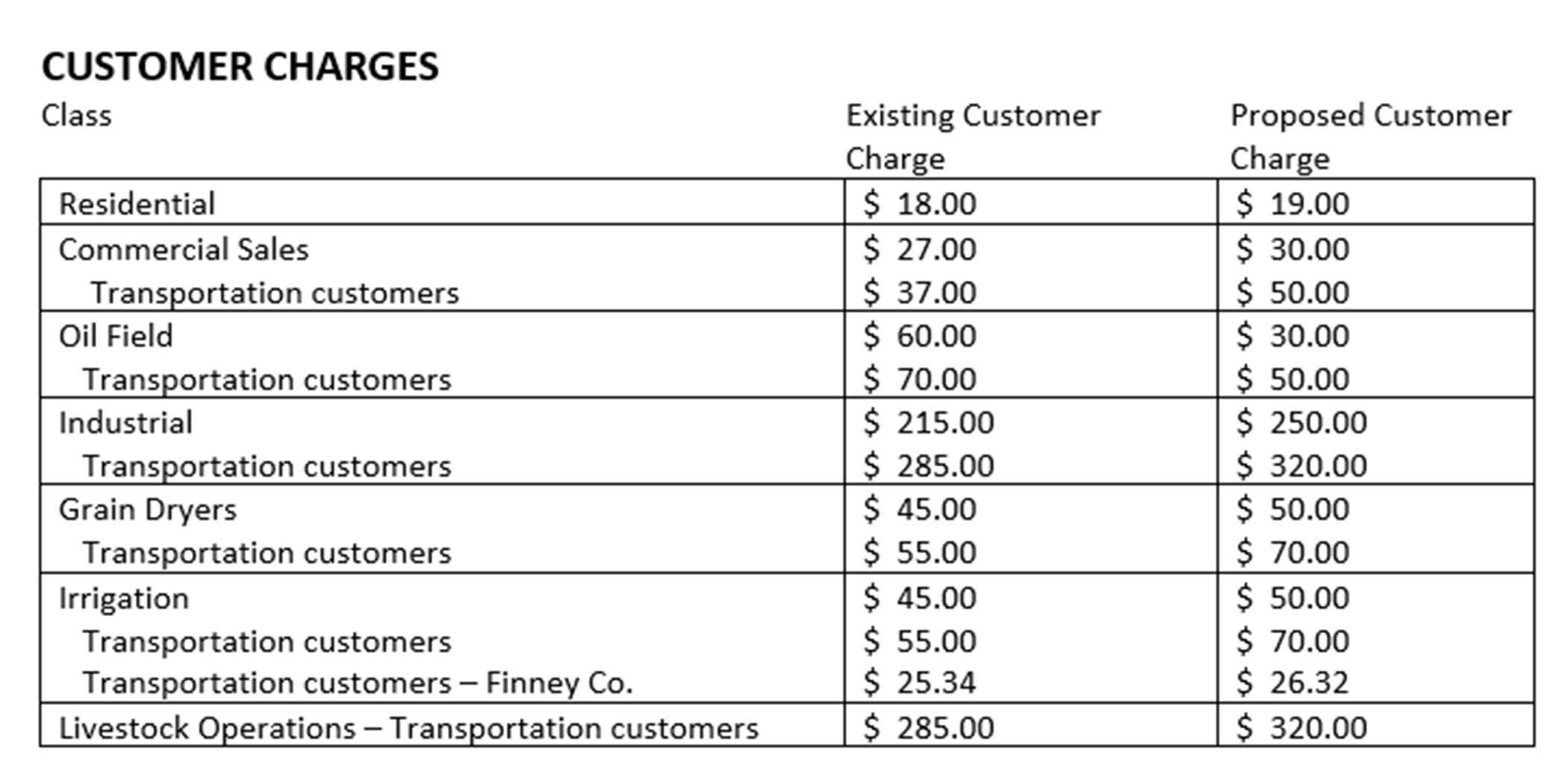 Q: How much will my bill increase?
A: An independent cost-of-service study was performed this year to fairly assign costs across rate classes. Based on rate classification and consumption, the impact will vary – an overall bill may increase or decrease. The greatest difference is the customer charge, which increases for residential and most commercial customers, but decreases for some other rate schedules (see chart above). A residential customer would see the following monthly bills (before taxes) for the indicated therms used, assuming a 48¢ per therm cost of gas: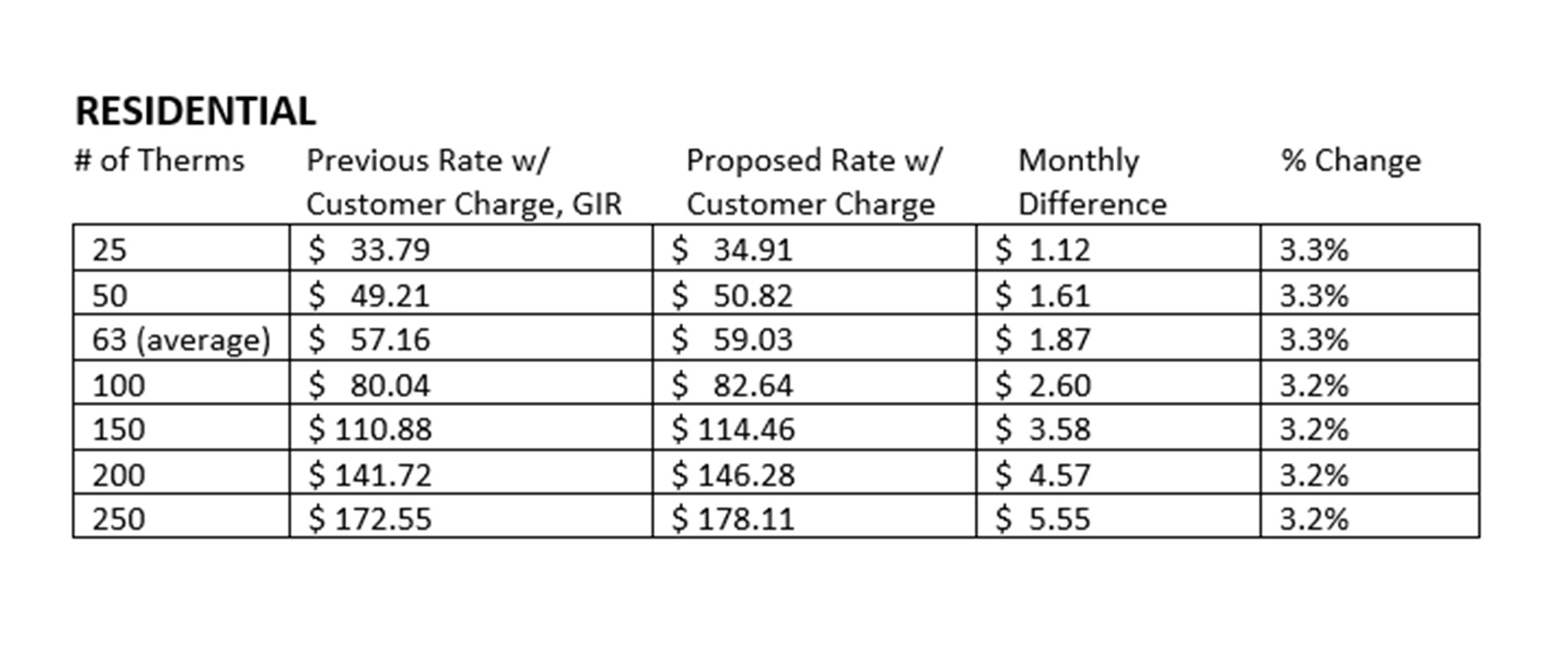 Commercial retail customers would see the following bills (before taxes):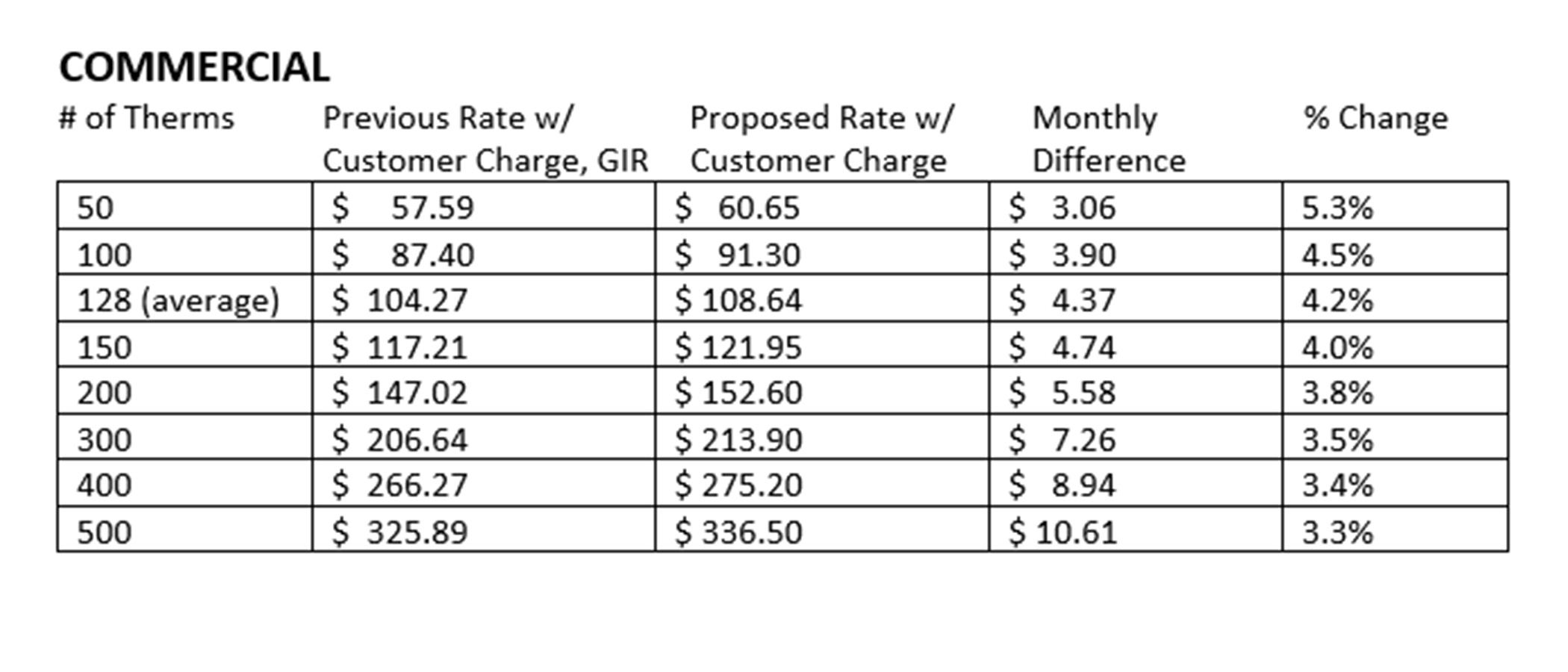 Q: Were changes made to any other rate schedules?
A: Yes, several rate schedules were revised, clarifying methods of computation or clarify the terms of service. Follow these links to see all revised rate schedules and cancelled rate schedules.
Q: When was the last rate increase?
A: Midwest Energy's last general rate increase was in October 2016, which resulted in a 2.2% revenue increase; prior to that, a general rate increase in 2006 resulted in a 6.7% increase in revenue. This proposed rate increase would see a 3.9% increase in revenue. Midwest Energy works hard to control costs and minimize the need for rate increases. When a rate increase is necessary, our goal is to keep any increases less than the annualized rate of inflation.
Q: Who determines when a rate increase is necessary, and by how much?
A: Midwest Energy's Board of Directors and executive staff continuously monitor the financial stability of the cooperative to determine if or when a rate increase is necessary. To establish the new rate structure, an independent, experienced firm was hired to review and recommend changes to our rates.
Q: How do Midwest Energy's rates compare to other gas utilities in Kansas?
A: Midwest Energy's current residential and commercial gas charges are the lowest in Kansas, and remain so even after the rate changes. For example, the average residential Midwest Energy customer will see bills (excluding cost of gas) increase from $326/year to $348/year, based on 755 therms of gas used. That's still 2-15% less than Kansas' three largest gas utilities. For commercial customers, using an average of 1,556 therms of gas, annual charges increase from $507 to $560/year, 10-27% less than Kansas' three largest utilities.
Q: Will Midwest Energy still have a Cold Weather Rule to prevent service disconnection in the winter?
A: Yes. The rate changes don't impact the Cold Weather Rule (CWR) for residential customers.
Q: What is the effective date of the new rates, and when would I see them on my bill?
A: If approved, rates would go into effect with the first billing cycle based on meter readings dated after July 1, 2020.
Q: How could customers make concerns known to the Board?
A: Customers have the opportunity to send comments regarding the proposed rate changes to Midwest Energy no later than April 10, 2020. Comments should be addressed to Bob Muirhead, VP for Customer Service, at bmuirhead@mwenergy.com; alternately, you can call Bob at 785-650-2502 with your comments.

Three public meetings were scheduled to discuss the rate changes, but they have subsequently been cancelled due to concerns over the COVID-19 virus. A video explaining the proposed rate changes is being developed, and will be posted on Midwest Energy's YouTube channel when available.
All Midwest Energy members are also invited to an open member meeting, where the Board of Directors will consider and vote on the proposed changes. That meeting will be held Monday, May 18, 2020 at 1 p.m. at the Midwest Energy Office, 1330 Canterbury Dr., Hays.
Page last updated Mar. 18, 2020