Fleet Manager Drives Home Huge Savings for Midwest Energy
February 22, 2019
Midwest Energy is in the car and truck business.
Not literally, of course – the co-op exists to provide safe, reliable electric and natural gas service to members in 40 Kansas counties. To do that, it relies on a fleet of 463 units of all types (230 trucks and cars, plus dozens of trailers, diggers, skidsteers, forklifts, a few four wheelers and even one snowmobile, to be exact). By continuously improving the way fleet purchasing and maintenance are done, the company is saving more than $300,000 each year.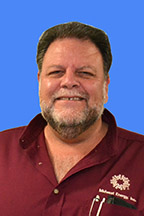 Keeping all ready around the clock falls to one man, Gary Burnett, Midwest Energy's Fleet Manager. Burnett covers all the counties and vehicles from a small office in Hoxie, but often works from the cab of his truck, meeting with vendors and evaluating vehicles as he travels the service area.
Burnett came into the job almost by accident. He was initially hired by Midwest Energy to assist with warehousing and FEMA documentation following a massive ice storm in 2008. When that project concluded two years later, the company kept Burnett on, thinking that his more than 15 years of fleet management experience for a building materials retailer in Denver could help save the co-op money.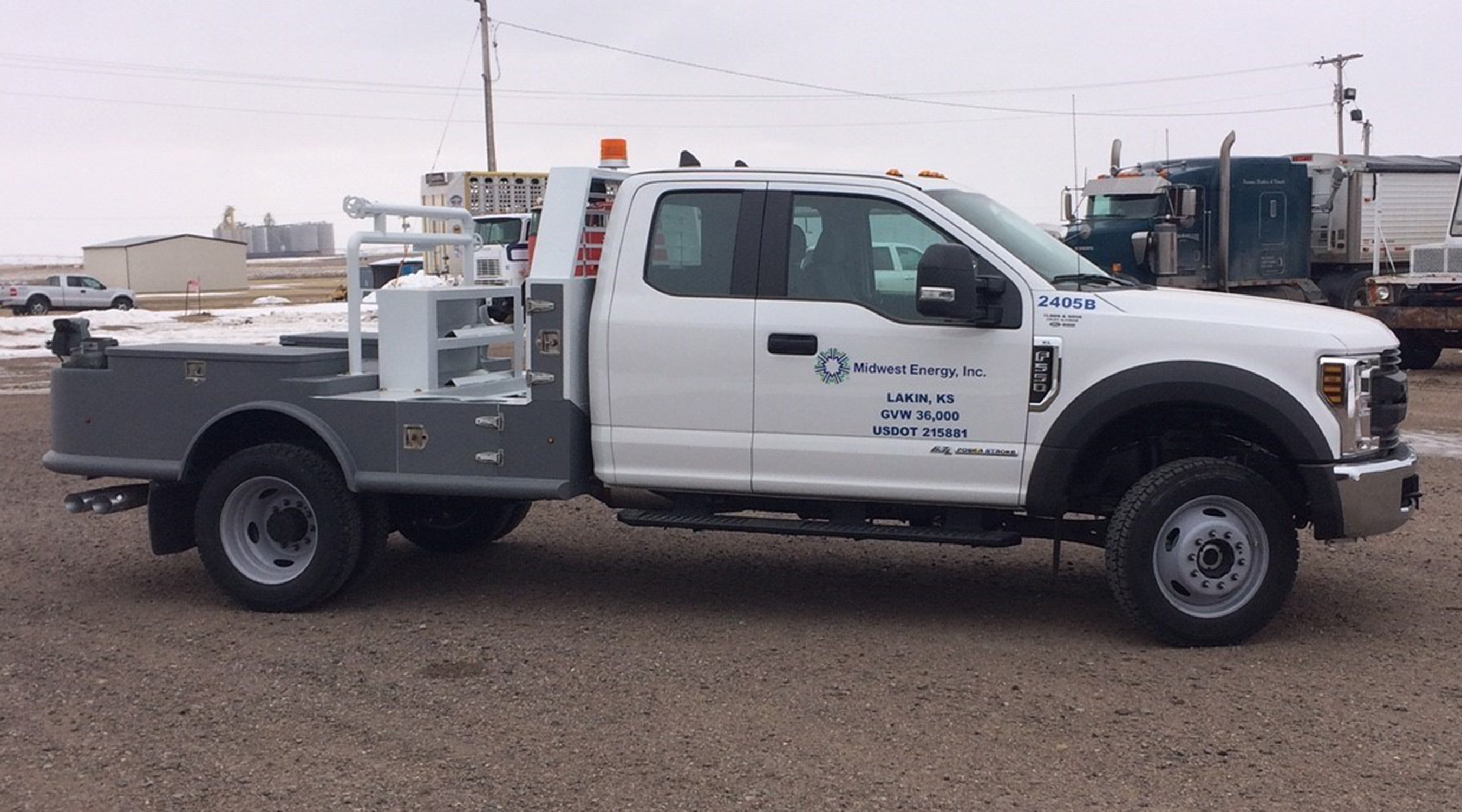 "At that time, it was every supervisor for themselves," Burnett said. "If you needed a vehicle, you created the specifications, met with the vendor, negotiated pricing, created and submitted a requisition, got it signed, and bought a vehicle. There was no standardization," Burnett said. "Same thing went for repairs – in some instances employees were providing equipment repairs, in other situations supervisors could spend hours trying to find a shop that could do the work, not knowing if the work should be done under warranty, or if the price of the repairs was competitive or not." Midwest's current fleet program has moved more than 4,000 hours of work off supervisors and field employees.
When the fleet program began in 2010, the focus was on what he called the "low-hanging fruit" – creating equipment specifications, developing maintenance programs and working with vendors to establish and clarify warranty expectations.
To develop standardized equipment specifications, Burnett developed and led employee user groups made up of equipment users from different areas of the company. These user groups defined the "needs" based on their experience using the equipment. Root cause analysis associated with accidents has also been used to develop or modify specifications. Lowest cost is not always the "best" cost and low bid is not always "best" bid. Midwest's standards have in some cases increased the upfront cost of a unit but has lowered costs over the life of a unit.
Establishing a fleet refurbishment and replacement program has saved hundreds of thousands of dollars in recent years. In some cases refurbishment means replacing hoses and other hydraulic equipment, in other situations it could be a simple remount, clean up and paint. Once the hydraulic unit is refurbished it is bolted on to a new chassis. The cost of one new service bucket truck is around $160,000 – and the company has 27 of this type of truck in service. When considering whether to refurbish or replace a unit an inspection is completed and this information is used to make a decision. The average cost savings of doing this is nearly $40,000 per unit; a bed and hydraulic unit may be re-used two or three times before it finally needs to be replaced.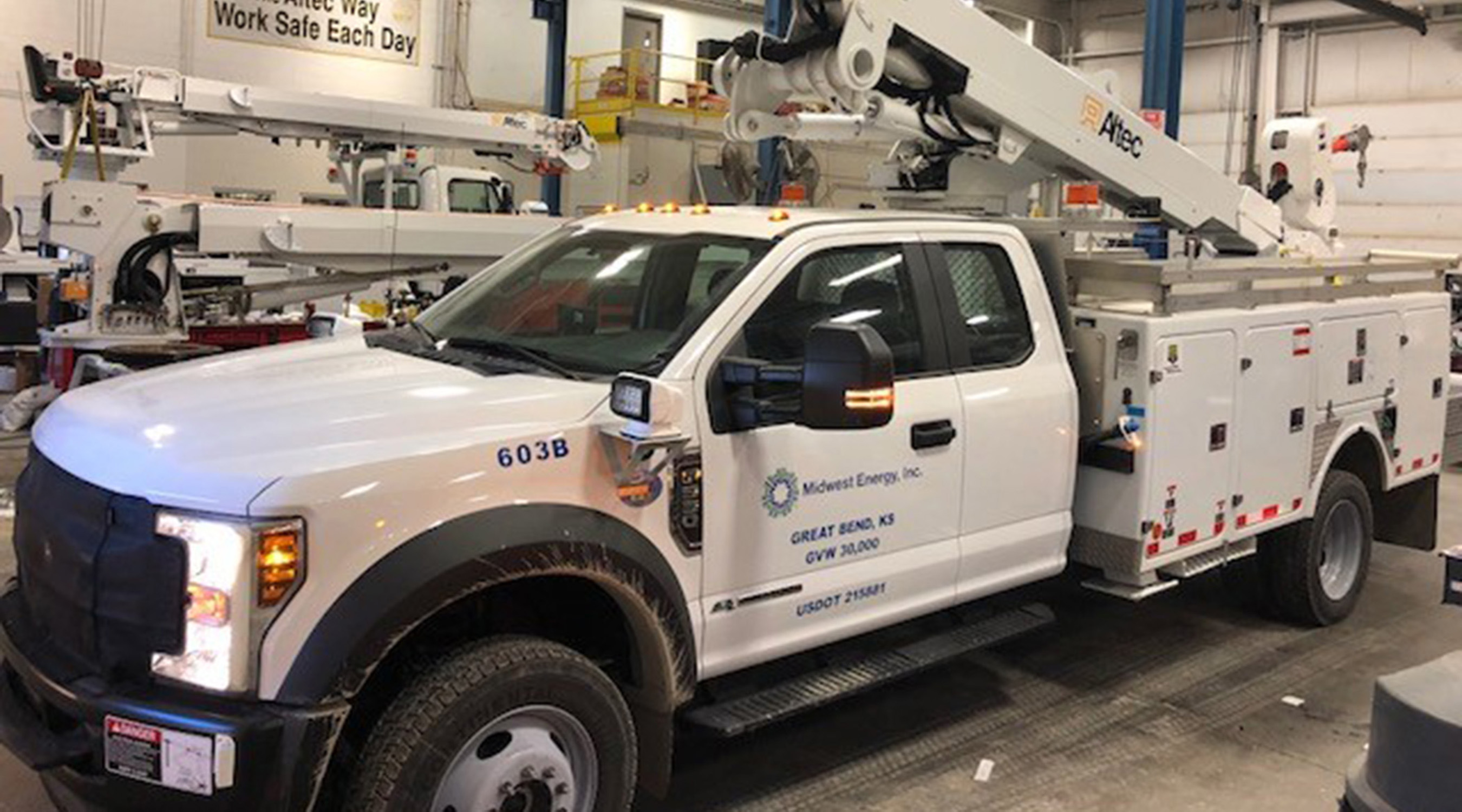 "Many of our service trucks drive 40,000 miles or more a year," Burnett said. "Buying a new F550 chassis and re-using the bed and hydraulic unit starts to add up over time." For larger trucks, like the $350,000 digger trucks (Midwest has 15 of these), or the $250,000 crew bucket trucks (Midwest has 17), the opportunity for savings is even greater.
Burnett also employs smart practices he's learned during his career, like adding a towing package to each of the 15-20 vehicles he purchases each year, whenever it's available. "For a couple hundred dollars more, you get a heavier-duty suspension, as well as a separate transmission cooler, which extends the life of the transmission," Burnett said. "You make that money back several times over through lower maintenance costs, plus at trade-in time, the unit gets a better price."
In clarifying warranty expectations with vendors, Burnett said, "The standard warranty provided by companies that build our hydraulic units is one year, but I knew from previous experience those warranties could be extended." Today, Burnett has negotiated extended warranties with several manufacturers of hydraulic units, in one instance five years, for no additional cost.
Lastly, Burnett has implemented a tire program where Midwest purchases tires directly from the manufacturer for a large discount, and has them drop-shipped to a local tire shop for installation. "Everyone wins; the company saves money, the local shop gets the mounting business, and Midwest just saved two hours of time because employees don't have to drive from Hanston to Great Bend to get their tires put on – it can all be done in town." Since the tire program was implemented Midwest has saved more than $250,000, averaging nearly $40,000 a year in savings.
The savings from all these efforts have been considerable. If one assumes an increase in costs based on average inflation for the last 10 years, Midwest would be paying around $500,000 more annually to replace its aging fleet. As it is, Midwest has seen a 5% increase in vehicle count and growing replacement unit costs but is annually spending less to replace it's equipment than it did in 2008 or 2009.
One of Burnett's proudest achievements has been the significant reduction of crew downtime due to maintenance. "There's nothing more expensive than a crew sitting idle, because their trucks - the tool they need to do their jobs – is out of service," Burnett said. He has assembled a small number of spare units to ensure that seldom is a crew without one while primary units are being serviced.
"What Gary has done with Midwest's fleet program with regards to downtime is exceptional," said Fred Taylor, Midwest Energy's Vice President of Operations. "In 2008, electric crews were down a combined 576 hours due to equipment issues," Taylor said. "Crew down time due to equipment issues has been reduced by approximately 90% to 70 hours."

"In 2017, while restoring service after major storms, Midwest's equipment operated approximately 10,000 hours and had zero hours down time due to hydraulic equipment failures," Taylor added. "That's a huge improvement."