Youth Tour
Are you a high school junior, looking for the trip of a lifetime? Something interesting for your college admissions packets and resumes?
The Electric Cooperative Youth Tour to Washington, D.C. is organized by the National Rural Electric Cooperative Association with assistance from state cooperative associations including Kansas Electrical Cooperatives.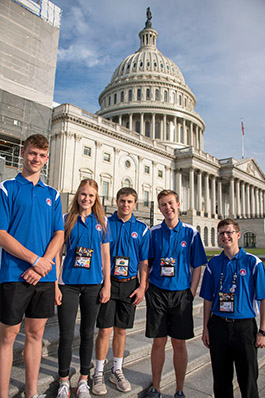 During Youth Tour week, June 18-25, 2020 students gain a personal understanding of American history and better understand their role as a citizen by meeting their representative and senators. They visit many historic sites around the nation's capital, learn about the role leadership plays in governance, and how they can become leaders in their rural communities.
Since the late 1950s, The Electric Cooperative Youth Tour has brought high school students to Washington, D.C. every June. Over 500,000 students from rural areas and small towns across America have participated in this unique program.
Applications are due Jan. 15, 2020. Applicants must be juniors in high school, and their parents or guardians must receive electric and/or natural gas service from Midwest Energy. There are five Board of Director Districts, and one student from each district will be chosen based on the applications received. Selected applicants will be notified in February. Those five selected will be joining other high school students from across the United States on the trip. Children of Midwest Energy employees are not eligible to apply.
More information about the Youth Tour can be found at http://nreca.coop