News
September 25, 2015
Massive Electric Generators Move Through Hays Streets
Three massive electric generators made the slow journey from the Hays rail yard near Vine Street to the Goodman Energy Center recently.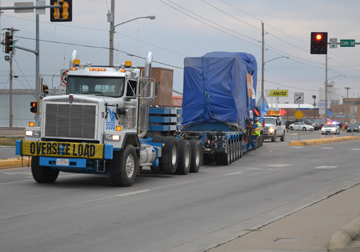 The first 150-ton generator made the trip Friday, Sept. 25, just after 8 a.m., with another following on Saturday the 26th and the final engine following on Sunday the 27th. Pilot vehicles guided the generators up Vine Street and turned west on 27th Street. On 27th, they travelled to the US-183 bypass and over the I-70 bridge, continuing north on 230th Avenue. Midwest Energy and other utility crews will raise power and cable lines where needed along the route, to allow the generators to safely pass underneath.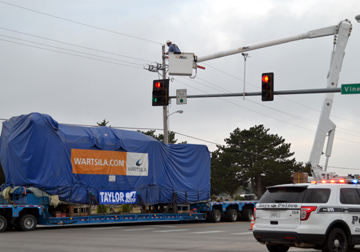 Motorists on those roads during these times were asked to exercise extreme caution near the convoy. As the convoy moves at just above walking speed, drivers in a hurry were asked to consider alternate routes.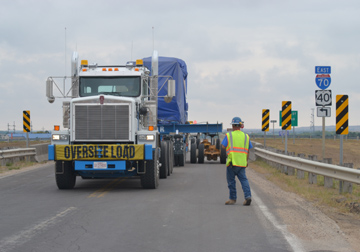 The generators were manufactured in Europe by Finnish engine maker Wärtsilä. They arrived at the Port of Houston earlier this month, and traveled to Hays on rail cars. Valued at nearly $5 million each, they are the centerpiece of the $30 million expansion at the Goodman Energy Center north of Hays, which will see the plant's capacity grow from 76 megawatts up to 102 megawatts, enough to power more than 15,000 homes. The expansion should be complete and operational in early 2016