Natural Gas Markets Driving Energy Bills Higher
June 30, 2022
News articles in recent months have predicted 'spiking energy bills' for customers later this summer and winter. While Midwest Energy pursues the most economical energy sources for its customers, increases in wholesale power costs spell higher electric bills, and increasing costs of wholesale natural gas will result in gas customers seeing bill increases in coming months.
"There are three primary reasons for the increase in the cost of natural gas," said Bill Dowling, Midwest Energy's Vice President for Engineering and Energy Supply. "Unfortunately, none of these issues are likely to resolve in the immediate future."
First among the three reasons for higher gas prices is more electricity is now generated by natural gas. The U.S. has begun to retire a significant portion of its power plants fired by coal. The replacement for that retired coal generation is an increased reliance on natural gas-fired generation, as well as renewable resources like wind and solar. Midwest Energy buys its electricity through the Southwest Power Pool's regional energy market, which seeks to source electricity from the lowest-cost generation facilities first. However, demand increases as we enter the peak summer months of July – September. Coincidentally, these months are when average wind speeds are lowest in Kansas, meaning more natural gas-fired generation is used, pressuring wholesale electric prices.
Next, an increase in natural gas exports. The U.S. now exports three times the natural gas it did in 2015, after significant investments in liquified natural gas terminals at major ports. This is due to many countries voluntarily halting imports of Russian gas, and higher demand in countries using less coal or in Germany's case, closing nuclear plants.
Finally, domestic oil drilling has slowed. Much U.S. natural gas is associated with oil production, and much of that comes from shale gas formations. Those wells tend to deplete quickly. Thus, when oil and natural gas prices were low, oil companies pulled back on exploration for profitability reasons. Now we are seeing the impact of slowed exploration. Rising interest rates and sustainability goals of investors have made it difficult for exploration companies to attract new capital to quickly ramp up exploration and production. The pressures of increasing demand, particularly for export, while supply has been unable to increase as rapidly, have contributed to increasing prices.
"For much of the last decade, gas prices have generally stayed in the 20-40 cents per therm range," Dowling said. "Today (in early June), gas is 85 cents per therm, and the markets are predicting gas to remain above 80 cents per therm into 2023."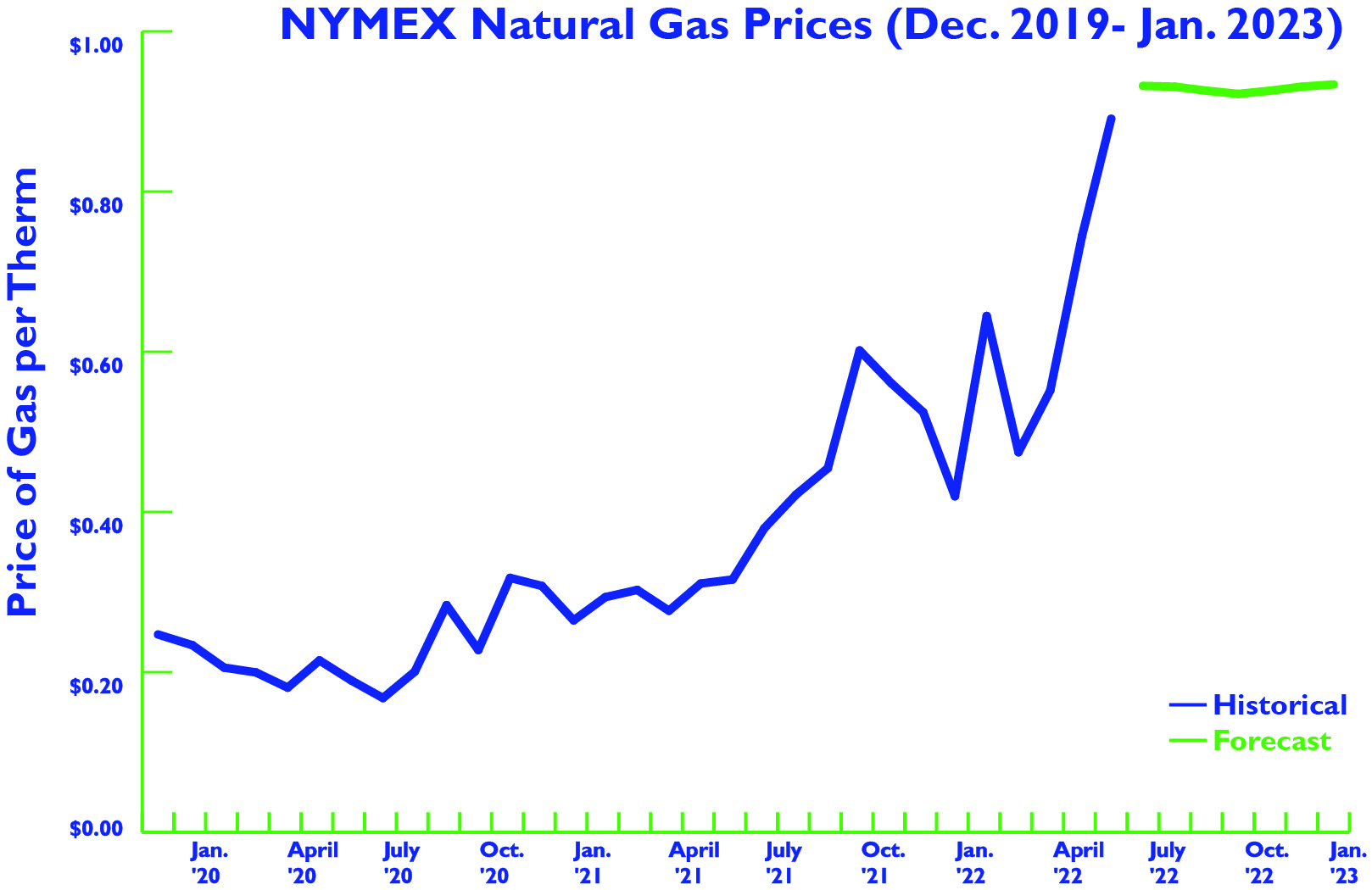 Dowling noted that while natural gas prices are at the highest level since 2008 (when gas topped $1.60 per therm for several weeks), price decreases are possible if gas production increases and summer temperatures stay somewhat mild for most of the nation. An economic slowdown could also reduce demand, possibly leading to broader
reductions in natural gas prices.
Since gas prices are influenced by a variety of factors, as is the demand for natural gas, it is difficult to predict the impact these market changes will have on individual customers. Despite this, Midwest Energy wants customers to be aware of the possible outcomes and understand their options if higher wholesale costs persist.
The most obvious way to control energy bills is to simply use less electricity and natural gas. Bumping thermostat settings up a couple of degrees on hot days will make air conditioners cycle less frequently. If not done already, switch the most-used light fixtures to LED bulbs, and slightly lower the temperature setting on gas or electric water heaters. Similarly, reduce the cost of heating your home next winter by setting thermostats down a few degrees.
Customers concerned about facing potentially higher bills can prepare now, by enrolling in budget billing. With budget billing, you pay an average bill based on your previous 12 months of usage. The amount adjusts annually, based on any balance that builds up over that period. To sign up, just call Midwest Energy at 1-800-222-3121, or visit one of our walk-in locations.
Lastly, some customers may be eligible to receive assistance by applying for the Low-Income Energy Assistance Program (LIEAP) with any Kansas Department of Children and Families offices. In addition, customers who are struggling to pay their bills may apply for assistance through the Midwest Energy Customers Care program. If approved, customers can receive a grant of up to $200 to help pay their energy bills, subject to funds availability. To apply, customers must call the Salvation Army at 1-816-756-5392, and select option 3.