News
October 29, 2015
Regional Non-Profit Groups Awarded Grants
Five area non-profits were recent recipients of $5,000 impact grants from the Midwest Energy Community Fund, while ten other groups received $1,000 grants. The grants were awarded to groups that had raised an equal or greater amount towards a specific project or goal.
An example of the impact grant projects supported is the Scott Community Foundation's Walking Trail Fund. The trail is a five-mile paved bike and pedestrian walkway that runs through and connects the community. The Scott Community Foundation raised $60,000 for the construction of the trail, being built in phases. Additional funds were needed to purchase river rock and materials to finish the remaining phases.
The trail is "a fully ADA-compliant designated bicycle and pedestrian trail/walkway that spans across Scott City," wrote Julie Niehage, Community Development Coordinator, in their application. "It connects key community areas such as parks and schools with residential areas, while providing recreational trail activities to residents."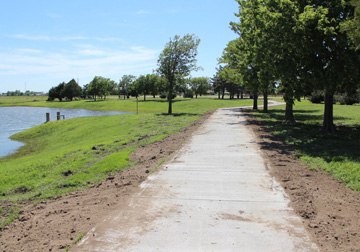 One $5,000 grant was awarded in each of Midwest Energy's five community fund districts. Other organizations receiving $5,000 grants were:
- Stockton Public Library, Stockton: part of a capital improvement fund to replace the facility's roof and interior ceiling tiles
- Ellis County Fair Association, Hays: for construction of an ADA-compliant restroom
- Park Elementary School, Great Bend: for purchase of age-appropriate playground equipment
- Area Community Enrichment Foundation, Atwood: to provide funds for leadership training in county and regional collaboration at the Kansas Leadership Center for nine community "ambassadors."
Receiving $1,000 grants, made possible by a $5,000 investment from Midwest Energy that was matched by a $5,000 "Sharing Success" grant from CoBank were:
- Grinnell PRIDE Christmas Lighting Fund: to purchase supplies for lighting displays
- Ellinwood Fire Department: to help purchase a thermal imaging camera
- Golden Belt Humane Society, Great Bend: to help purchase a vehicle to transport animals to alternate facilities and rescue groups when facilities are overcrowded.
- Edwards County Hospital Auxillary, Kinsley: to purchase flu serum for free community vaccination programs
- Hays Area Children's Center: to purchase a swing set for the facility
- City of Quinter: For construction of a guard shack and restroom for the city pool
- Rooks County Healthcare Foundation, Plainville: to help purchase a new wheelchair-accessible minivan for patient transport
- Russell PRIDE: to purchase materials and signage for a running/walking trail
- Wichita County Community Foundation: to help create a permanently-endowed health fund
- Wilson Chamber of Commerce: for construction of a gazebo to house the world's largest Czech egg
The Midwest Energy Community Fund awards grants of up to $1,000 ($5,000 for impact grants) to eligible organizations. Eligibility criteria and an online application are available at www.mwenergy.com/community. Application deadlines are April 1 and Oct. 1 each year.
For more information, please contact Bob Muirhead at 785-650-2502, or e-mail bmuirhead@mwenergy.com.