Annual Report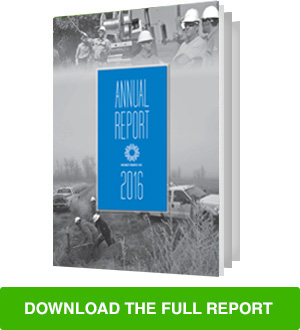 As we reflect on 2016, the year was somewhat of a disappointment. For the first time in 15 years, Midwest Energy did not achieve its budgeted net margins. This was entirely the result of lower energy deliveries, offset partially by good control of operating expenses. Why were our sales lower? In the first instance blame the weather. It was too nice! How odd that we could experience a warmer than normal winter, a cooler than normal summer and a wetter than normal growing season all in the same year. We sold less gas for heating, less electricity for cooling, and less of both fuels for irrigation. The silver lining, and it is a big one, is that bills were lower. These savings couldn't have come at a better time for farmers and those in related ag industries who are struggling with persistent low prices.
Persistent low prices also affected our oil well customers, who reduced their electric consumption 8.5% in 2016. It could have been worse. The Kansas Geological Survey reported Kansas oil production declined 22% in 2016. Farmers and oil producers face
a common problem in trying to market their output in a global market with expanding supplies and sluggish demand.
As your customer-owned cooperative utility, Midwest Energy takes a long view and a broad view of its responsibilities. In terms of the long view, a poor year like 2016 does not constitute a crisis. We must be sensitive to trends but not the weather. What are the trends we see?
- Long-term drawdown of groundwater supplies will affect both electricity and gas sales.
- Oil production will continue to swing with market prices.
- Increased energy production nationally will cause pipeline electric loads to continue to grow.
- Our aging population will slowly decline.
- The electrification of the economy will continue.
These trends signal a need for caution in making long-term commitments for new power supplies and careful evaluation of investment in new electric and gas delivery infrastructure.
Let's look deeper at how we are changing power supply. In 2016 we completed the expansion of the Goodman Energy Center on time and under budget. This peaking generation resource provides a secure source of energy close to customers and a cost-effective resource for balancing the swings in wind energy generation in our area. We renegotiated our second largest power supply agreement, with a $10 million reduction
in cost taking effect in June of 2017. Finally, we more than doubled our reliance on wind energy, both for economic reasons and as a hedge against rising costs from increased environmental regulation.
Now let's turn to our broad view of our responsibilities to you, our owners. At
the most basic level, we provide safe, reliable and cost effective delivery of electricity
and natural gas. That's only the beginning. In "making energy work for you," we strive
to provide greater value for the energy you use and to minimize your use of energy.
This commitment is reflected in our national award winning energy savings program, How$mart®, our comprehensive load control efforts through Pump$mart and a similar program for large commercial and industrial customers, and our broad employee expertise in energy auditing and energy use consulting. Midwest Energy succeeds only when customers are getting maximum value for the money they send to us.
Midwest Energy has a third level of commitment that reaches beyond energy delivery, energy management and conservation. Part of our Mission is to foster leadership and growth throughout the region. Serving vast rural areas and only one community with more than 5,000 people requires Midwest Energy to play a big role in both economic and community development. Here are some ways we make a difference.
- Midwest Energy customers partially direct our charitable and matching contributions.
- Midwest Energy has provided $8.4 million in Rural Economic Development loans and grants to customers in partnership with the U.S. Department of Agriculture.
- Midwest Energy employees participate in and lead regional and statewide organizations focused on workforce development, housing and charitable giving.
- Midwest Energy provides training scholarships for individuals employed in economic development or chamber of commerce management.
We leverage our efforts through partnerships with other rural electric cooperatives, telephone cooperatives, a large network of community foundations and the Dane G. Hansen foundation.
Two key components of rural life are family and community. Midwest Energy contributes to both because we are rooted here. Our employees and our customer-elected board share your concerns and your optimism as we "build a brighter future for our customer-owners."
Thank you for providing us opportunities to serve you better.
Earnie Lehman
President & General Manager
Keith Miller
Chairman of the Board