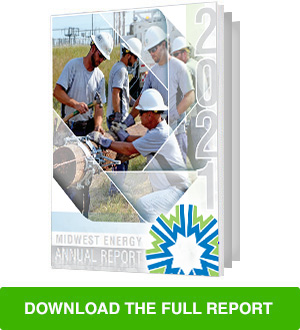 Reliable energy supply is foundational to the economy and society. In 2021, abnormal weather events and supply chain problems placed unusual stress on local and regional energy networks. Midwest Energy met the challenges, ending the year in good financial health while maintaining competitive rates and delivering reliable service.
In February 2021, the strongest polar vortex in decades brought a perfect storm. Sustained record low temperatures greatly constrained electric and natural gas supplies throughout the central U.S. while demands for both were unusually high. For a short period, daily natural gas prices topped $620 a dekatherm (about 250 times the first of month price). Electric prices briefly exceeded $4 per kWh (about 140 times average hourly market prices in all of 2020). The Cooperative's strategy for buying and selling power in the Southwest Power Pool's integrated market insulated electric customers from adverse monetary impacts. Grid integrity was maintained, and except for one SPPdirected electric interruption of 74 minutes to 1,200 customers, Midwest Energy was able to maintain electric service to all customers when needed the most.
Costs of natural gas for retail customers during Winter Storm Uri far exceeded historic norms. Midwest Energy's balance sheet position allows the amortization of $9.7 million of abnormal natural gas costs for recovery over two years so that customers would not face extraordinary one-time bills. There were no interruptions of natural gas service. Total amortized natural gas costs for an average-use residential customer were $200, or $8.27 per month.
Summer months included two thunderstorms that downed 67 115 kV transmission structures with a replacement cost of $1 million. A December storm event with wind speeds exceeding 100 mph destroyed more than 800 poles. More than half of Midwest Energy's electric customers lost service at some point, and outages occurred in all 26 counties of the electric service area. Combined wind and ensuing wildfire damage exceeded $3.2 million.
The most difficult day-to-day challenges resulting from the COVID pandemic subsided in 2021, but supply chain disruptions worsened. Vehicle vendors will not commit to delivery times and costs have increased dramatically. Certain types of distribution transformers have increased in price by 100 percent, and 3-week delivery times have lengthened to a year or more.
Midwest Energy has experienced a surge of baby boomer retirements and new hires. At year end, about 30 percent of employees had four or fewer years of experience. Formal knowledge transfer, peer-to-peer training programs and other initiatives help Midwest Energy achieve good results even with an influx of new employees.
Reliable service comes with a cost, and Midwest Energy must increase charges when inflation and system renewal costs outpace efficiency gains. A $1.4 million natural gas rate increase planned for 2020 was deferred one year during the pandemic. A smaller increase of $1.04 million was put into effect in July 2021. The average residential customer impact of $0.98/month means our residential and general service gas delivery rates remain lowest in Kansas. Midwest Energy also adopted a formula rate concept for natural gas service. Formula rates replace existing, single-issue annual rate adjustments to include all capital additions and expense changes. The result will be more frequent but smaller adjustments, subject to annual reviews by the Board of Directors.
The Cooperative's equity structure is an important component of financial oversight and planning and rate determination. In 2021 the Board of Directors adopted changes to the corporate equity target and discount rate for early patronage retirements. The Board also directed Executive Staff to reduce the equity target for a proposed 2023 electric rate change.
Cost increases are countered in part by efforts to improve productivity, improve service, and make processes more efficient. Midwest Energy's automated metering infrastructure (AMI) system allows the completion of many tasks without a trip to the customer's location. In the first full year of operation, these "automated service orders" eliminated over 14,000 truck rolls.
Automation of electric and gas metering is also putting detailed information at customers' fingertips to help them manage energy bills. Over 3,000 customers have registered to gain access since the customer portal was made available in mid-2021.
Midwest Energy remains committed to keeping rates as low as possible, while delivering excellent service our customers have come to expect. It is our pleasure to serve you.
Gary Moss
Board Chair
Patrick Parke
Chief Executive Officer