Annual Report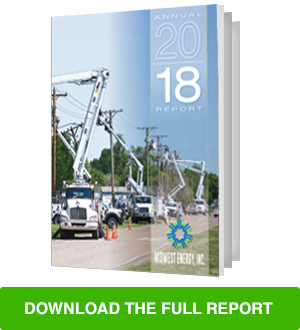 Midwest Energy did not achieve budgeted margins in 2017, falling short by $2.3 million. This marks only the second time in the last 16 years that budget expectations were not met. Mild weather and plentiful rainfall, plus lower than expected sales in the oil field, commercial and industrial sectors accounted for most of the deficiency. Midwest Energy responded before mid-year with deferral or elimination of non-critical projects to soften the impact on the bottom line. Before year-end, management tightened ongoing cost control measures. These changes included expanding the use of "business case" analyses for major expenses, not just capital investments; more stringent bidding requirements; and periodic reviews of baseline budget categories.
While missing budget for the current year should not be ignored, we also need to look beyond near-term weather variances and economic dips. Utility investments are long-lived; it takes decades to fully recoup the original investment. A Board and management priority is to make sure the cooperative is prepared for long-term changes both locally and in the industry to protect our members' investment and control monthly bills.
We are watching several issues closely. First, we have seen significant growth in the use of renewable energy, particularly wind, to generate electricity. Thirty percent of our electricity now comes from Kansas wind farms. We welcome the environmental benefits and payments to local land owners and communities. Not visible to our customers is the cost of high voltage transmission lines that deliver the electricity generated to buyers outside our system, and in some cases to out-of-state buyers. We believe the current cost allocation process unfairly burdens local electric customers, and we will be working to modify that.
Second, Midwest Energy constantly faces the need to replace old facilities. Our current budget for replacing distribution lines along streets and rural roads is in the range of $17 million annually. Our planning must include consideration of distributed energy resources such as rooftop solar panels and home-sized energy storage systems. With new technologies emerging, we need to be even more diligent about future plant investments. Third, maintaining cyber security to protect our systems and customer information has become a critical and fast-moving target. Unlike the previous two issues that can largely be solved with traditional utility skills, cyber security threats have bad actors on the other side, constantly presenting new risks.
Finally, be assured we are paying attention to advances in new technologies such as utility-scale solar energy and batteries. Declining costs make it probable that Midwest Energy will adopt them to some degree in the years ahead.
2017 marked Earnie Lehman's final full year of service to Midwest Energy as President and General Manager. Among many accomplishments, his 15-year tenure includes significant growth in wind energy purchases, multiple storm restoration events that benefited from over $120 million of assistance from FEMA and the Kansas Department of Emergency Management, and construction of the 102 megawatt Goodman Energy Center. During this time Midwest Energy also earned national recognition for the How$mart® energy efficiency program, began installation of automated gas and electric metering, constructed Kansas' first community solar array, began a $13 million replacement program for bare steel gas mains, and invested over $100 million in electric transmission line upgrades. We extend Midwest Energy's gratitude for Earnie's leadership, and wish him and Lara the best in retirement.
Juanita Stecklein
Board Chair
Pat Parke
Chief Executive Officer