Kansans enjoy plentiful and reliable electric and natural gas services. While recent inflation and supply chain disruptions threaten the status quo, Midwest Energy customers have fared well in the areas of cost control and rates.
In 2015, Midwest Energy's average retail electric rate was 10.41¢ per kilowatt hour. By 2022, customers paid an average of 10.11¢, a decrease of 2.9%. Had electric prices kept pace with inflation, rates would have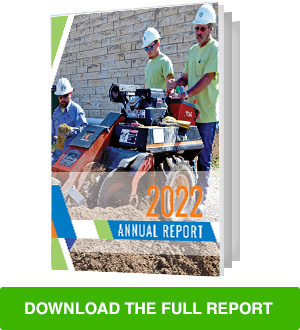 risen 21.5% over those seven years. For an average residential customer, the result in 2022 was $292 available for other necessities that otherwise would have been consumed by inflation. In 2021, the most recent data available for statewide comparison, Midwest Energy's residential rates were 2nd lowest among 26 Kansas-based co-ops and one percent below the largest investor-owned utility in the state.
Midwest Energy's natural gas delivery rates continue to be the lowest in Kansas for residential and general service customers. The recovery of extraordinary natural gas costs incurred during February 2021 Winter Storm Uri continued through 2022. These costs are expected to be fully recovered by July 2023 within the originally projected two-year window. Midwest Energy's residential gas customers will pay an average amount just under $200, the lowest of all major gas utilities in Kansas. Customers of the three largest natural gas utilities will pay an extra $677 to $694 over recovery periods of five to ten years. The Kansas Attorney General began an investigation into potential price gouging during Uri, but results could be years away.
The wholesale cost of natural gas has swung widely in recent years. Steadily increasing domestic production resulting from the adoption of hydraulic fracturing softened prices that occasionally exceeded $10 per million BTU in the first decade of the millennium. During the succeeding decade, prices declined to the $2.50 range. Then, increasing use of natural gas as an electric generation fuel and the advent of liquified natural gas exports strained supplies, pushing the price over $8 in summer 2022. More recently, spot prices have again dropped below $3 per million BTU. These changes impact natural gas heating bills and the wholesale cost of electricity. While prices in commodity markets are largely beyond our control, Midwest Energy offers a number of bill payment plans and energy efficiency services to ease impact on household budgets.
Midwest Energy finalized a plan in late 2022 to implement demand rates for residential and small commercial electric customers. A primary objective is to send a price signal for customers to reduce power use, especially during peak times, to control costs. Demand rates are also a means to recover grid investment and upkeep costs more equitably among all customers, including those who have opted to install distributed generation resources like solar panels.
Demand readings are now shown on all residential and small commercial electric bills, but at no charge. Demand charges will begin appearing on bills in 2024, accompanied by off-setting reductions in the energy charge. The multiyear phase-in of demand charges will be revenue-neutral for an average residential customer. We will focus on customer education with a series of public events throughout 2023 and 2024 and several mailed brochures. For Internet users, a microsite with a bill estimation tool is planned for late summer 2023 to accompany detailed meter information available in the CustomerConnect online portal.
The sequence of unusual public health, economic, weather, and geopolitical events since 2020 brings attention to the concept of resilience. This goes far beyond day-to-day reliability to include the ability to recover from extreme situations. Securing a robust domestic supply chain, enhanced cybersecurity protection, employee succession planning, and replacement of aging infrastructure are among our many efforts to reliably operate our electric and natural gas systems through any event.
Operating in a more complex world while preparing for the future is not possible without the expertise and commitment of our current 280 employees. Despite constant challenges, their dedication to your co-op and communities remains as strong as ever. We thank you for your confidence in Midwest Energy. It is a privilege to serve you.
Gary Moss, Board Chair
Patrick Parke, CEO