Annual Report
Our members trust us to lead Midwest Energy forward within a transforming utility industry. We balance the challenge of maintaining traditional energy delivery systems while addressing new technologies, increasing customer expectations and changing regulations. But in 2020, our strategic initiatives and daily routines ran headlong into a once-in-a-century pandemic. Midwest Energy's response encompassed (1) protection of employee health while delivering reliable service, (2) adjustments to operational practices and capital investment to maintain the company's financial health, and (3) provision of targeted customer assistance.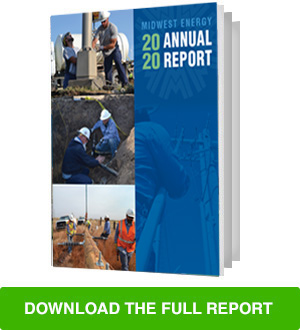 Nationwide travel restrictions greatly diminished the demand for aircraft and vehicle fuel. Impacts rippled through the oil and gas industry, reducing Midwest Energy's sales to oil pumping and large pipeline loads. An unrelated load reduction on a major natural gas pipeline combined with the pandemic to reduce year-ending net margins $3.7 million below budget. But after cost reduction efforts and deferral of $17.3 million of capital investments, equity as a percentage of total assets exceeded budget projections, indicating improved financial health for your cooperative. However, such actions cannot be sustained over a long period without harm to service quality. Midwest Energy also obtained an SBA Paycheck Protection Program loan, which did not impact 2020 financial results.
Midwest Energy stood with its customers during the pandemic. A planned $1.4 million natural gas rate increase proposal was deferred; a 3-month moratorium was placed on service disconnections for nonpayment; late payment penalties were waived for a year; 40 area food banks received grants totaling $10,000; a corporate donation of $35,000 was made to the Midwest Customers Care bill assistance fund, and $15,000 of corporate funds were leveraged to make grants totaling $50,000 to three regional mental health agencies.
Important work continued through the pandemic, including completion of a resource-intensive audit under the North American Electric Reliability Corporation's reliability compliance authority. The audit scrutinized compliance in the areas of operations, planning, and critical infrastructure protection. The review concluded with good results, comparing the company favorably with benchmarked peer audit performances within the Midwest Reliability Organization, which covers 16 states and two Canadian provinces. In a related area, Midwest Energy progressed on its multiyear plan to strengthen cybersecurity based on the Center for Internet Security's 20 globally recognized best practices for securing computer systems and data.
Other technology projects laid groundwork for new capabilities and service offerings in coming years. These include upgrades to mission critical software systems, conversion of SCADA and Land Mobile Radio networks to the microwave backhaul system, and upgraded software used for in-field design of construction projects. Automated Metering Infrastructure software and related systems were prepared for 2021 capability deployments including a customer portal, remote electric meter connection and disconnection, and automation of customer account changes. The latter two processes will eliminate truck rolls to complete the required tasks. 2020 saw the conclusion of several engineering and construction projects years in the making. In the far western reaches of the service area, we replaced a key but aging and problem-prone line between the towns of Winona and Wallace. A new skid-mounted substation was installed in Atwood, bringing improved reliability and simpler maintenance. Other new substations were placed into service in Winona and Lyons. The latter project included the first use of our new "substation on wheels," purchased to continue reliable service when replacing or upgrading an existing substation.
Four substations were substantially expanded or constructed to supply large pump stations on crude oil and natural gas liquids pipelines. The addition of new load helps control rates for all customers. Risks inherent in serving large loads are mitigated with requirements for customer contributions to construction costs and revenue deferral from such load additions.
Employee training and development continued an important role in 2020, including revisions to electric and natural gas apprentice programs, a new source for natural gas Operator Qualification training materials and adoption of a leading platform for delivery of virtual training, testing and documentation.
Through all the challenges of 2020, the dedication, work ethic, and expertise of our 270 employees and their commitment to our customers and communities remained strong. On their behalf, we thank you for your confidence in Midwest Energy and the opportunity to serve you.
Gary Moss
Board Chair
Patrick Parke
Chief Executive Officer