News
August 06, 2014
Career Training Program Brings Opportunities to Northwest Kansas
Technology training began Aug. 4 at North Central Kansas Technical College for 10 northwestern Kansas students enrolled in the Kansas Department of Commerce Workforce AID initiative.
The training was developed under the guidance of area manufacturers including Glassman Corporation, Cross Manufacturing, CASHCO, Carrico Implement Company, Swift Bullet, Wellhead Systems and APAC, and is funded by a $120,000 grant from Midwest Energy and CoBank. Training focuses on blueprint reading, precision measuring, metalworking equipment and machining processes, and provides graduates with an industry credential in metalworking. Training occurs at NCK Tech and on-site at various participating companies, enabling graduates to explore the companies before applying for positions.
Interestingly, most of the enrolled students are already employed, but are seeking additional training to make them more marketable in a region where unemployment is well below 3 percent.
"I've been working in the food service industry the last seven years, and it's hard to raise kids on what that pays," one Hays-area student said. "This type of work is totally new to me – and it's training that employers have asked for, so it should lead to a better job."
Another student works for an office supply company, and said he's looking to become a better assembler. "My employer encouraged me to be here," he said. "Learning blueprints and metalworking will help me move up to a team leader spot."
The twelve-week pilot project will open to a second group of students in the future. Anyone interested in participating in the next Workforce AID course should contact Mari Tucker at NCK Tech, at (785) 738-9051.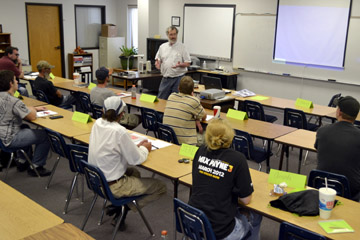 For more information, contact Mike Morley at (785) 625-1463.