News
December 04, 2014
Goodman Energy Center Expansion Moves Forward
Midwest Energy is moving forward with a $30 million expansion of the Goodman Energy Center in Hays, enabling the plant to accommodate load growth in the area while remaining a reliable backup generation source to wind generation resources in the region.
The expansion will add 27 megawatts of generation capacity to the facility, which entered service in 2008. When the original facility was constructed it was designed to accommodate this expansion, utilizing the existing infrastructure at the plant. Three new Wärtsilä natural-gas powered internal combustion engines, nearly identical to the nine engines currently in the plant, will boost the facility's capacity from 76 megawatts up to 103 megawatts, enough to power more than 15,000 homes.
"When we looked at current electric loads and where we expect those loads to grow in the coming decades, we saw a clear need for additional generation resources," said Bill Dowling, Midwest Energy's Vice President of Engineering and Energy Supply. "We looked at several options, and expanding the Goodman Energy Center proved the most economical and practical alternative," he added.
The expansion won't significantly change the appearance from the plant, which is on 230th Avenue and visible to the north of I-70. Other than the extension of the north end of the building, the most visible change is that the exhaust stacks for the three new engines will be roughly one-third taller than the nine existing stacks to meet new federal air regulations.
Dowling said the Kansas Department of Health and Environment approved the air permit for the facility in late November. He expects construction to begin in the spring of 2015, lasting approximately nine months. Commissioning of the new engines should occur in February 2016. Burns & McDonnell of Kansas City, Mo., will serve as the engineering, procurement and construction contractor for the project.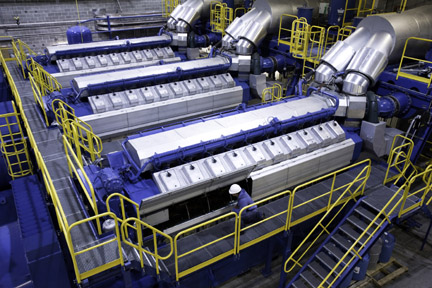 For more information, contact Mike Morley at (785) 625-1463.