News
February 01, 2018
Lehman Retires from Midwest Energy
Earnie Lehman, President of Midwest Energy, retired from the company Feb. 1 after 15 years of service.
During Lehman's tenure, Midwest Energy's sales grew considerably, and he guided the company to complete the acquisitions of several smaller electric and natural gas systems. Similarly, he grew Midwest Energy's percentage of energy derived from Kansas wind from just a few megawatts, to more than 100 megawatts, or nearly one-third of the company's retail sales.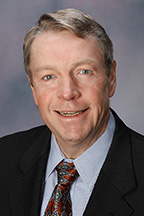 "Earnie has contributed much to the success of Midwest Energy in keeping down member rates by enhancing our power supply with renewable energy, investing in our owned generation at Goodman Energy Center, and implementing automated meters throughout the Midwest service territory," said Juanita Stecklein, Board Chair for Midwest Energy's Board of Directors.
His formal retirement is the culmination of a six-month long transition process, with WaKeeney native Pat Parke assuming the new title of the company's Chief Executive Officer.
"Earnie has assembled a great team, challenging them to be forward-looking" Parke said. "Through his leadership, we are well positioned as the electric and natural gas industries evolve for the future," he added.
For his part, Lehman was reflective when looking back on his four-decades long career in the energy industry, which included executive positions with companies in Kansas and Texas, as well as a time serving as a federal regulator.
"Leading Midwest Energy has been the greatest honor of my career," Lehman said. "Over and over I witnessed the dedication and perseverance of our employees, who deserve full credit for the fine service provided and great reputation enjoyed by Midwest Energy. Most of all, I appreciated the opportunity to get to know and work with so many of the wonderful people we serve across central and western Kansas."