News
November 02, 2018
Midwest Energy Crews Move Lines Underground for Massive Wind Project
Construction of a massive wind farm is underway in Thomas County, and Midwest Energy crews are assisting in the project by undergrounding 18 spans of existing rural lines, allowing the massive cranes used to construct the towers easy access to the 177 wind tower sites.
Two Midwest Energy crews, one from Colby and the other from Hoxie,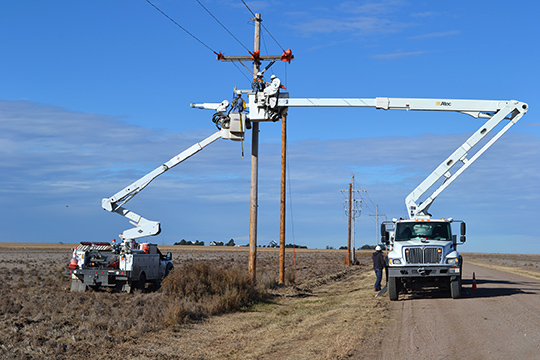 along with a lineman from Atwood, have been working daily since mid-October on the undergrounding project, completing one span every three days. Additionally, crews are switching power and isolating sections of circuits, to minimize disruption on nearby farms and oil production.
"It's keeping us busy," said Nate Harter, Line Foreman at Colby. "They have a tight construction schedule, so we're doing everything we can to get these finished as quickly as possible."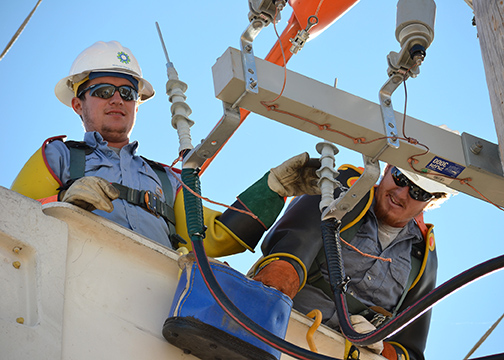 The 474-megawatt project is being done in two phases; the Solomon Forks Wind Project is a 276-megawatt wind farm of 105 towers. Construction on the $562 million project, located immediately south of Colby, began in September 2018. Construction on the second phase of the farm, the East Forks Wind Project, began Nov. 1 and has 72 towers making 198 megawatts. The projects are being developed by Engie North America, a subsidiary of Engie Group, headquartered in France.
Several companies are purchasing large shares of the wind farm's output. Cell phone provider T Mobile has signed to purchase 160 megawatts of output, while Target Stores is buying another 100 megawatts. Brown-Forman, the parent company of Jack Daniels, is purchasing 30 megawatts.