News
February 03, 2015
Midwest Energy Deploys New Web Site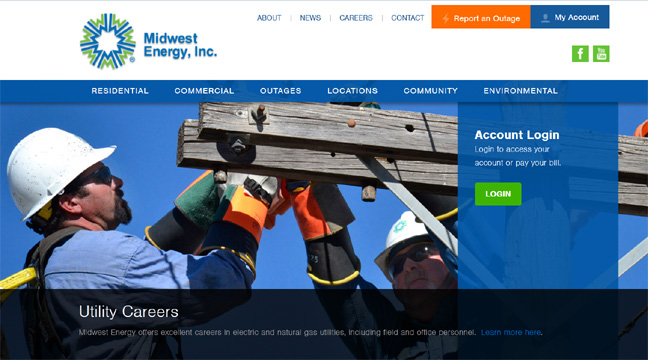 Midwest Energy launched a re-designed web site Feb. 3, offering visitors an improved experience with an easier-to-navigate layout, and a responsive format that optimizes the site's appearance for the type of device they are using.
"On the old site, customers using a mobile phone or tablet device would have to zoom in a lot just to read the text," said Tim Flax, Vice President of Information Technology at Midwest Energy. "Now, the site recognizes whether they're using a desktop, tablet or mobile device, and serves the appropriate layout view based on screen size."
Most visitors to the site come to pay their energy bill, search the careers section or research renewable energy information, such as small wind or community solar options. Those areas are all more readily identifiable on the new site, most requiring just one or two clicks to access.
"You'll have the same functionality regardless of device type, but now you can read the site easily and find what you're looking for more quickly," Flax added.
Midwest Energy engaged Lifeboat Creative of Wichita for the site's re-design, which had last been refreshed in 2008. The site's address remains the same, www.mwenergy.com.
For more information, contact Mike Morley at (785) 625-1463.